Exhibition stands at ITAC 2017 have sold out.
If you are looking for an opportunity to be part of the exhibition space the opportunity to be present is via the Networking Lounge Sponsorship.
The Networking Lounge will be one of the focal points of the Exhibition. On offer is a dedicated area that includes furniture and signage. The Networking Lounge will also include a live stream of the plenary sessions. This will be a great place for delegates to network, relax and provide a unique space to do business.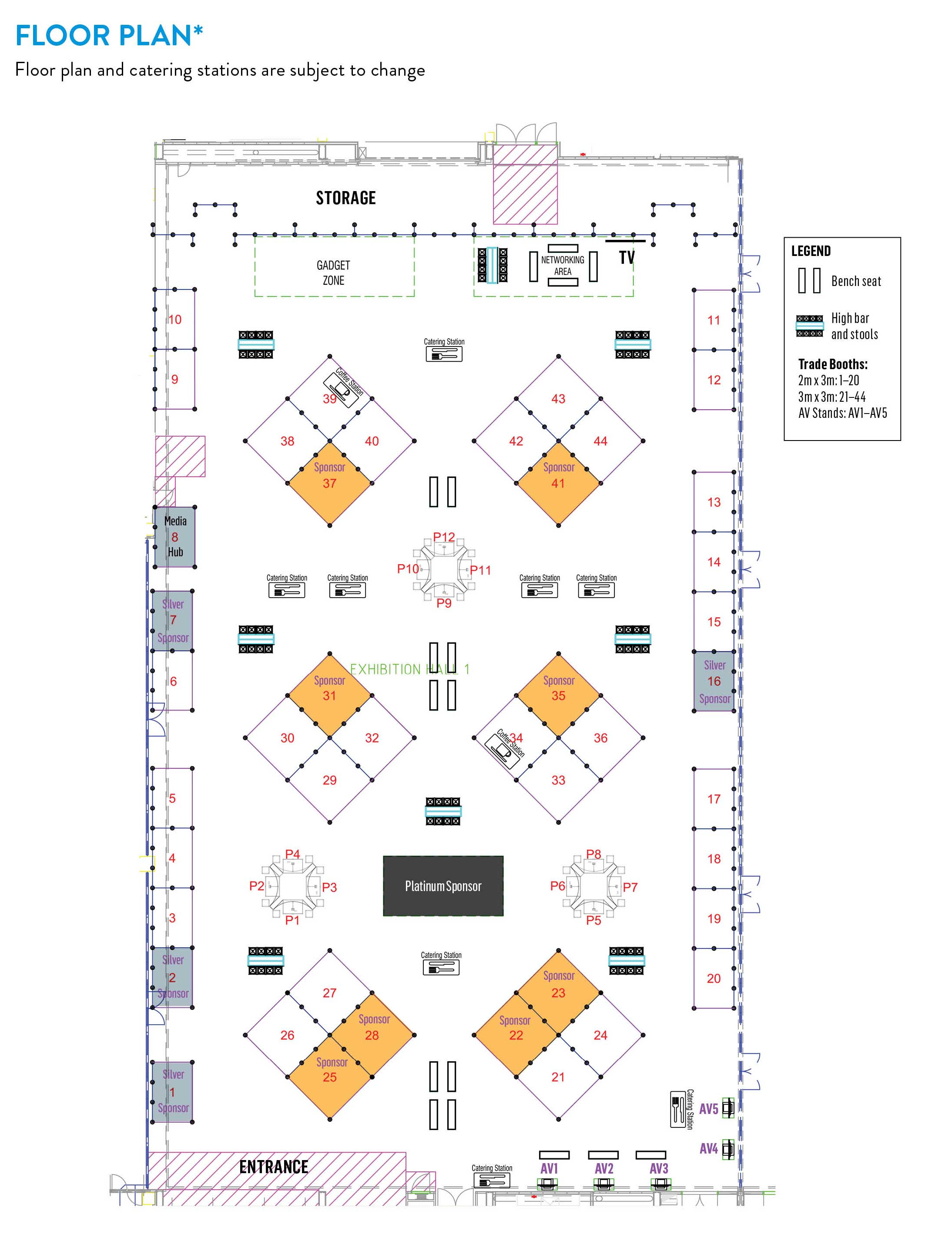 Trade Stand Sizing and Inclusions
 
 
 
 

3m x 3m Trade Stand

• 2 x tickets to the Age Care IT Awards Dinner to be held 21 November 2017
• 2.5m white high panels
• Fascia – matt anodized aluminum frame with white laminate infill
• Lighting – two 150-watt spotlights at rear of booth
• Power – 4 amp's of power with 4 way power board
• Exhibitor profile featured in ITAC program booklet (50 word text)
• Listing on exhibitors page in ITAC program booklet
• Staff catering – morning tea, afternoon tea and lunch for 2 representatives
• Additional full registrations from your company at conference exhibitor rates ($770)
• Furniture is at an additional cost through Moreton Hire. Details will be distributed prior to the event











2m x 3m Trade Stand

• 2 x tickets to the Age Care IT Awards Dinner to be held 21 November 2017
• 2.5m white high panels
• Fascia – matt anodized aluminum frame with white laminate infill
• Lighting – two 150-watt spotlights at rear of booth
• Power – 4 amp's of power with 4 way power board
• Exhibitor profile featured in ITAC program booklet (50 word text)
• Listing on exhibitors page in ITAC program booklet
• Staff catering – morning tea, afternoon tea and lunch for 2 representatives
• Additional full registrations from your company at conference exhibitor rates ($770)
• Furniture is at an additional cost through Moreton Hire. Details will be distributed prior to the event






 
 
 
 
1m x 2m Networking Pod

• 1 x ticket to the Age Care IT Awards Dinner to be held 21 November 2017
• 2.5m white high panels
• Fascia – matt anodized aluminum frame with white laminate infill
• Lighting – two 150-watt spotlights at rear of booth
• Power – 4 amp's of power with 4 way power board
• Exhibitor profile featured in ITAC program booklet (50 word text)
• Listing on exhibitors page in ITAC program booklet
• Staff catering – morning tea, afternoon tea and lunch for 1 representative
• Additional full registrations from your company at conference exhibitor rates ($770)
• Furniture is at an additional cost through Moreton Hire. Details will be distributed prior to the event

 
 
AV Stand

• 1 x ticket to the Age Care IT Awards Dinner to be held 21 November 2017
• Power – 4 amp's of power with 4 way power board
• Exhibitor profile featured in ITAC program booklet (50 word text)
• Listing on exhibitors page in ITAC program booklet
• Staff catering – morning tea, afternoon tea and lunch for 1 representative
• Additional full registrations from your company at conference exhibitor rates ($770)
• Furniture is at an additional cost through Moreton Hire. Details will be distributed prior to the event